Student Shares Her Experience Attending the Grammy Awards
April 3, 2022 marked the 64th Annual Grammy Awards, where top artists displayed a range of moving live performances and nominees were celebrated for their musical achievements. The show was performed live at the MGM Grand Garden Arena in Las Vegas. I, Erica Lu, had the opportunity to attend the award show in person this year and was able to watch the performances myself.
Each year, fans from all over the world await the results of the four biggest award categories: Record of the Year, Song of the Year, Album of the Year and Best New Artist.
The Silk Sonic team of Bruno Mars and Anderson Paak won both Song of the Year and Record of the Year for "Leave the Door Open," the R&B and pop-inspired chart-topper. 
Album of the Year went to Jon Batiste and his production team for "We Are." This year, Batiste received 14 nominations, of which he won five. 
19-year-old singer and songwriter Olivia Rodrigo won Best New Artist as tribute to her debut album "Sour," with hits "drivers license," "good 4 u," "deja vu" and more. 
Later in the evening, after "Sour" won Best Pop Vocal Album, Rodrigo recalled telling her mother at nine years old that she would be an Olympic gymnast when she grew up. "And so the next week, when I told her I was going to win a Grammy, she was very supportive, even though I'm sure she thought it was just a little kid pipe dream," she said. Rodrigo took home a total of three Grammys this year.
In addition to awards, the night is always decked with live performances from fan-favorites. 
The show kicked off with an upbeat rendition of Silk Sonic's "777," and Rodrigo followed with a performance of "drivers license." "Oh my gosh! She sounds so amazing live," my mother whispered in the seat next to me. 
When host Trevor Noah announced that the South Korean boy band BTS would be performing momentarily, my mother squealed with excitement. At one point during their performance of "Butter," BTS member J-Hope tripped and fell making his way off the stairs. He recovered, though, and continued dancing with a smile.
Seeing the show in person taught me a few things about live television. Each time the show was off the air during a commercial break, an announcer would voice to the stadium that we would be "back in three," and then he would count down from 10, excepting the words two and one, right before the cameras and microphones were live again. 
My favorite behind-the-scenes secret is that every single person on stage has a very large teleprompter timed to their speech or song out in the audience for them.
One of the night's most moving moments was when Ukrainian President Volodymyr Zelensky virtually shared a message about hope and the war in Ukraine. "The war. What is more opposite of music? The silence of ruined cities and killed people," Zelensky said. "Our musicians wear body armor instead of tuxedos. They sing to the wounded in hospitals. Even to those who can't hear them. But the music will break through anyway."
Leave a Comment
Your donation will support the student journalists of Sidwell Friends School. Your contribution will allow us to purchase equipment and cover our annual website hosting costs.
About the Writer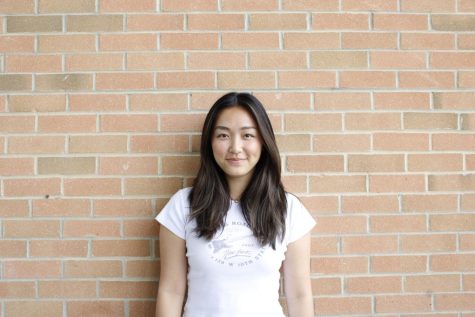 Erica Lu '24, Editor-in-Chief


Erica Lu is currently Editor-in-Chief of Horizon. She served as a Features Editor in the 2022-2023 school year. Prior to that, she worked as a Staff...