EJC Implements New Programs, Plans for Upcoming Year
Since releasing a strategic action plan last spring, Sidwell's Equity, Justice, and Community (EJC) Department has implemented several changes, in addition to launching new programs.
Director of Equity, Justice, and Community Natalie Randolph stated that the school was "really looking forward to completing some of the action steps that [were] put forward in the EJC Strategic Action Plan," such as working more deeply with student affinity groups and reorganizing EJC coordinator positions to prioritize engagement. 
To meet these goals, the EJC Department has expanded its team to include part-time help from Middle School EJC Coordinator Katarina Farrah and Lower School EJC Coordinator Richard Griffith. Another new face is 2021-22 EJC Fellow Khiana Clemons, who joined the team as part of Sidwell's new partnership with Howard University. With experience as an educator and a doctoral degree in Education Leadership in progress, Clemons supports ongoing EJC goals and has taken a leading role in planning a conference on race and education for both public and independent school teachers. 
"She brings an important research perspective to our work," Randolph said. "[This] aligns perfectly with the second goal of the strategic plan, which challenges us to collect and use more data to drive our programming and decision-making."
Clemons expressed appreciation for her new role in the EJC program. 
"I am so grateful for this opportunity to help develop EJC work at Sidwell," she wrote. "I'm learning a great deal and working closely with Natalie to strategize ways that will take EJC to the next level. I've had the opportunity to be a part of middle school affinity groups, and the meetings are the highlight of my week." 
Clemons is also excited for the year ahead, especially being on campus. "After being virtual for so long, I'm looking forward to planning and leading EJC programming."
Clemons and Randolph are both playing essential roles in supporting the Center for Ethical Leadership (CEL), a new program established this year. Described in the strategic plan as "EJC in action," CEL coordinates resources and opportunities for students to engage within the Sidwell Friends and broader Washington communities. Alex McCoy '04, formerly the Associate Director of Auxiliary Programs, was promoted to CEL Coordinator due to her years of experience with and dedication to EJC work at Sidwell. 
McCoy looks forward to expanding the programs with which the CEL works, including the Friends Across SFS Buddy Program, a program where Upper School students are paired with either a Lower or Middle School buddy, and the Dehejia Fellow Program, where Upper School students are matched with internships. 
To make EJC materials as accessible as possible, the team has also created the EJC Dashboard, a page on Sidwell's website where progress on the action plan is regularly updated. This digital version allows all families to have an updated reference that accurately reflects the school's progress in their work, as well as different initiatives by student organizations and parents. 
Randolph is excited for the future of the EJC program at Sidwell. "I truly admire the approach Sidwell has taken to ensure that there are spaces for everyone and that all friends can have an equitable experience here," she said. "There are so many ideas and programs that we hope will continue to engage all friends in EJC work. We have some great events brewing, so stay tuned to see what we do next!" 
The progress already made by the community provides a foundation for EJC work that will continue throughout the year. "The work of EJC programming never stops," Randolph said. "While each action may seem singular, once we take the time to step back and see the collective actions together, it becomes apparent that progress is being made."
Leave a Comment
Your donation will support the student journalists of Sidwell Friends School. Your contribution will allow us to purchase equipment and cover our annual website hosting costs.
About the Writer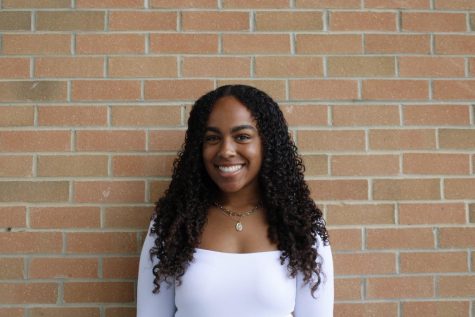 McKenzie Manley '24, Photo Editor
McKenzie Manley is currently a Photo Editor for Horizon, a position she held in both the 2022-2023 and 2023-2024 school years. Prior to this, she served...