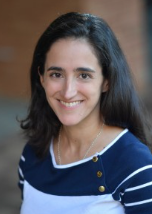 Upper School Math, Physics and Engineering teacher Natalia Jasper has been working at Sidwell since 2018. She is currently the only Upper School faculty member who teaches across three different disciplines.
Before teaching at Sidwell, Jasper worked as a mechanical engineer at Hamilton Sundstrand, a subcontractor to the NASA Constellation Program. According to Jasper, the goal of the program "was to make another ship, similar to the Apollo, which would get humans back to the moon, and then ultimately to Mars." 
Jasper worked on a form of cold plates with integral structural fluid ports that are designed to survive high-G loading for the Orion Crew Exploration Vehicle. "I never got to see it made," she said. "That's inevitably how the space industry works… you go back to the drawing board a million times, and ultimately the program got cut." 
Jasper decided to start teaching in 2012. "I had already been an engineer for 4 years and [it was] cool, but I'm not really passionate about it. I've always thought education was what I wanted to do," said Jasper. "I found it very mind-numbing to sit in front of a computer all day… a lot of it was not being consistently engaged," Jasper said. "The nature of the program I was on was so up-and-down and then there were a lot of waiting periods… the ebb and flow of, I just couldn't do it." 
Jasper was already tutoring on the side and volunteering in schools, and she began to wonder, "Why am I volunteering to do this stuff, why isn't this stuff what I am doing mainly?" Eventually she realized,"Instead of having [teaching] as my hobby, I could have it as my career."
In 2012, Jasper started teaching in a public school in New York City through Teach for America. Jasper explained that the program "takes a bunch of really motivated people" that aren't educators but are well-versed in their field, and places them in what the organization considers to be high-need areas. In exchange, the program helps them get a certification for teaching.
"It's really hard to teach in the public school sector," Jasper said of her work at Teach for America. "There's no support, there's gigantic class sizes. It has a lot of good benefits, but for me it was never about the benefits… it was about the actual teaching."
After teaching for two years at a public school, she shifted to teaching physics at the Columbia Grammar and Preparatory School, before eventually moving to Washington.
While she doesn't plan to return to the field of hands-on engineering, there are aspects of her former work that she misses: "Some of my coworkers worked on the Apollo program, and designed things on the Apollo," Jasper commented. "Just being in their presence… I was constantly humbled… these people are insanely intelligent and have done things that no other humans have done before."
"I miss it, but I enjoy what I do now," Jasper added. "I like being a teacher, I enjoy being in the classroom."
Jasper began teaching at Sidwell a year after moving to Washington. She started as a math teacher for Algebra 2. "The first year I only taught two classes," Jasper said. "Then the following year, I added on a physics class, and so I slowly started to dip my toes into the physics [department]. Then I started a revamp to the engineering class." 
Jasper currently just teaches physics and engineering due to the change in curriculum that led to both upperclassmen and freshmen taking physics at the same time. "Hopefully, I'll go back to teaching math some day," Jasper said.
One challenge Jasper anticipates with the new freshman physics class is altering the curriculum so that it covers the same material, but remains comprehensible to "a ninth grader that has much less experience in math and education in general." 
Jasper's favorite part of teaching, both across departments and in general, is watching students grow. "It's the 'oh' moments," she explained. "Those 'oh, it makes sense' [moments]… in physics, people think they know how things work, they see the world around them and they think they can explain why things are happening. But they come to my class and [realize] 'oh, I was wrong.'"
"I also like being here at Sidwell," Jasper added. "I have a lot of freedom here to really teach in a way I think is meaningful to students. I was allowed to bring engineering on board here, and I get a lot of trust and freedom in designing that curriculum as well."
In terms of her goals for this year, Jasper would "like to improve both how I teach math and physics… also my engineering class… right now it's very basic, and I'd like to make it less basic. I'd like to make it more of a big deal." 
"My biggest goal is to get kids excited about something they thought they would hate, like math or science," she added.