Sidwell Swim & Dive Looks Forward To Successful Season
With the winter sports season underway, one of Sidwell's more overlooked athletic programs, Swim & Dive, is preparing for a series of meets and championships, including Metros, ISLs and MACs. The team is coming off of a successful 2021-2022 season, with the girls and boys placing third and eighth overall, respectively, in the DCSAA championships. Head Coach Megan Miller, joined by Assistant Coaches Megan Mulhern, Caleb Morris and Chris Cummings, hopes to meet and surpass last year's record. 
Miller, who has headed the Swim & Dive program since 2009, shared three words she believes best describe the team: "Encouraging, hardworking and positive. I absolutely love coaching here at Sidwell Friends … the community and the students keep me motivated and inspired every single day."
During this season, Miller hopes to emphasize community building, in addition to enhancing endurance and dropping individual event times. Her coaching philosophy centers around her desire to "[gain] a sense of team within an individual team sport." 
Sidwell swimmers have also set ambitious goals for themselves this season, from achieving faster times to fostering a team atmosphere conducive to cross-grade bonding.
Freshman Hedy Hao echoed this sentiment, writing, "My goals for the swim season are firstly self improvement, shaving down time and qualifying for other meets, and to help build a supportive team which can encourage others to perform their best."
As highlighted by Hao, despite the sport's inherently individual nature, Sidwell swimmers continue to work to create a powerful sense of community on the team. 
"The swim team has a great sense of camaraderie," senior Pierre Alvarez said. "It isn't easy to go [to the pool] every day and to come back with wet hair in the freezing cold. We do it anyway because that's the cost of doing the sport that we love," he added.
Senior Ava Strong, a member of the swim & dive team since her freshman year, echoed Alvarez's emphasis on the strong rapport fostered within the team. Looking ahead to the remainder of the season, she described her desire to build an "environment with people who take the sport seriously and themselves a little less so. That's really important — to know how to have fun and not be super intense … I think that can lead to tensions within a team." 
Hao, new to Sidwell Swim & Dive this year but a long-time club swimmer, described the toxicity sometimes associated with the sport, contrasting this with her experience on Sidwell's team thus far.
"For me, swimming with Sidwell is a fairly different atmosphere when compared to club swimming outside of school," Hao said. "Sidwell swimming has a much more open and encouraging environment where you don't feel the need to compare yourself to others," she added.
Despite the team's success, Sidwell Swim & Dive has received low levels of student section support at meets and championships over the past few years. Many Sidwell swimmers attribute this to the lack of home meets. Unlike other private schools in the Washington area, including St. Albans and Holton Arms, Sidwell boasts no pool on its campus. Instead, the team practices daily at the nearby University of the District of Columbia (UDC).
Hao described the importance of student support at meets for team morale.
 "Having a presence of people to support and cheer you on can raise levels of motivation and confidence within a person … even when you're tired and sore," Hao wrote.
Elaborating on ways to increase the number of students in Sidwell's student section at competitions, Strong said, "I think that getting the F.A.N. to really hype up the meets as much as they do for Girls' Soccer and the football team … I think that would be really important for morale — to know that people are rooting for you." 
Strong added that the team's senior meet in late January would be an opportunity for Sidwell students to show support for their peers.
Leave a Comment
Your donation will support the student journalists of Sidwell Friends School. Your contribution will allow us to purchase equipment and cover our annual website hosting costs.
About the Writer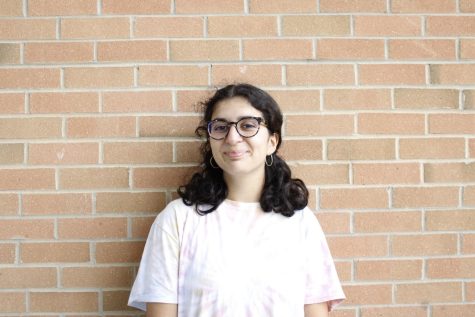 Sofia Gaviria '23, Editor-in-Chief
Sofia Gaviria is currently Editor-in-Chief of Horizon. She served as a Culture Editor in the 2021-2022 school year. Prior to that, she worked as a Staff...