The Sidwell Quaker Rare Book Collection Illuminates Quaker History and Culture
The Harrison Collection, Sidwell's collection of rare Quaker books, currently consists of more than 1,000 items. The books in the collection regard the history and development of Quakers, their religious and philosophical beliefs and their views on the social issues of their times, such as abolition, the treatment of Indigenous people in the United States and women's rights.
The collection is stored in the Sidwell Friends School archives and can be accessed with permission from Director of Special Projects Loren Hardenbergh. A complete bibliography of the materials is also available, linked from the Quaker Rare Books Collection in the "History" section of QuakerZone.
The assemblage, originally composed of 34 books on Quaker philosophy and history, was first commissioned in 1998 as a gift for retiring Head of School Earl Harrison, after whom both the collection and Sidwell's main high school building are named.
"The archives are the historical records of the school,  documenting the history of the school from its founding in 1883 to the present, everything from student publications to meeting minutes to directories [and] photographs," Hardenbergh said.
The books date back as far as the mid-1600s and record everything from the rise of Quakerism in Pennsylvania, Quaker daily life, and political divisions in the Yearly Meeting of Friends. There are also accounts of Quaker views on the causes, consequences and morality of war. Some works are written by Quakers, while others argue against Quaker beliefs and criticize the existence of Quakerism. There are books about Quaker beliefs and philosophies, records and commentary on legislature, biographies and autobiographies, volumes of poetry and obituaries and even a few books written for Quaker schools to teach English grammar.
Over the years, the collection has grown through donations, auctions and rare book dealers. Donors have included Haverford, Swarthmore and Guilford Colleges. As the selection has developed, it has expanded far beyond just books. Other types of media include newspaper articles, letters, journals and pamphlets.
Hardenbergh explained that an assortment of rare Quaker books was chosen as a gift for Harrison because of his interest in Quaker history as a Quaker himself and head of many Quaker schools. "It was a combination of [Sidwell] coming into a few Quaker rare books and [Harrison's] interest in the development of Quaker thought and practice," Hardenbergh explains.
Sidwell continued to build the Harrison Collection due to former Associate Head of School and History Teacher Ellis Turner's efforts. He helped found the collection and supported its growth, hoping to make it accessible to students and researchers. While several other educational institutes possess similar arrangements of rare Quaker tomes, such as Haverford College, Swarthmore College and Whittier College, few high schools have such an archive of Quaker history.
Leave a Comment
Your donation will support the student journalists of Sidwell Friends School. Your contribution will allow us to purchase equipment and cover our annual website hosting costs.
About the Writer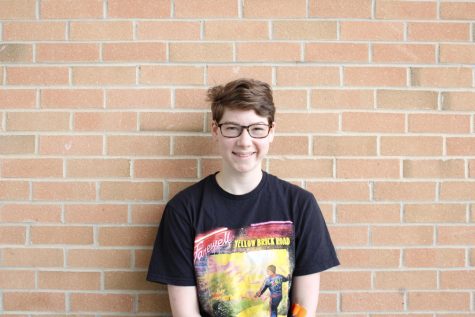 Elle Ludwin '25, Culture Editor
Elle Ludwin is currently a Culture Editor for Horizon. Prior to this, they worked as a Staff Writer for the newspaper.