Movies and TV Shows to Watch This Fall Season
What makes something feel like fall? When students were asked this question, their answers tended to be similar: crisp air, changing leaves, cozy sweaters and the urge to stay in bed.
When it comes to media, the romantic comedies of the summer seem less appealing as the days get shorter. Instead, many, like freshman Sophie Pitt, opt for a media choice that elicits that perfect autumn feel.
"What makes watching movies such a quintessential part of the fall season is the feeling of comfort and contentment they create," Pitt said. Along with falling leaves and the smell of pumpkin spice, cozy TV is a fall essential.
Finding the right film to invoke that perfect fall atmosphere can be time consuming, however. As opposed to endlessly scrolling through pages of movies and shows on Netflix, consider referencing this pared-down list for your next autumn movie night.
One film that perfectly embraces these fall themes is "Dead Poets Society." This movie is a beloved classic about an English teacher who inspires his students to choose their own paths through poetry. The setting is a fictional boarding school in Vermont, where the visible chill in the air, outdoor scenes and characters' many back-to-school woes make it fit the category perfectly.
Another movie with an underlying fall tone is 1989's "When Harry Met Sally." Though it is not entirely set during  autumn, the movie includes iconic scenes of Harry and Sally walking through Central Park with a backdrop of gold and copper leaves.
A lesser-known fall film is "October Sky." Based on a true story, it follows Homer Hickam, a teenager who wants nothing to do with the career in coal mining his father expects him to pursue. After the launch of Sputnik 1 on Oct. 4, 1957, he discovers that rocket science could be his golden ticket to a different future. This drama does not have explicit fall themes, but the depictions of the West Virginian woods depict beautiful autumn-like foliage.
When students were asked what makes something feel like fall, nostalgia was a popular response.
"The best fall movies are the ones I've seen more times than I can count," freshman Dylan Verma said.
Rewatching classics like the 1966 "It's the Great Pumpkin, Charlie Brown" is one of the best examples. Though it is over 50 years old and more of a show than a movie with a run time of 25 minutes, it is a lighthearted must-watch.
"I always watch 'The Great Pumpkin' with my family around Halloween," senior Elson Bankoff said.
"Coco," which was released in 2017,  is another heartwarming film that shares important family values through visually stunning animation. The plot of the movie surrounds the November holiday Día de Los Muertos, which is an important fall celebration to people of Mexican descent.
This would not be a list of autumn media without the inclusion of "Gilmore Girls." The show is set in the cozy fictional Connecticut town of Stars Hollow, and especially in themed episodes set around Halloween and Thanksgiving, the town is adorned with fall colors. The characters seem to do nothing else but walk around in sweaters. It is a cozy show that exemplifies everything right with mid-2010s new releases.
Overall, this list is diverse in length, release date and genre, with a common theme: a distinctly autumnal mood. Fall is characteristically a time of reflection, and movies are the perfect way to capture this.
"During this time of new beginning, fall media is anything that can remind us of past values and the memories we choose to carry with us," freshman Angela Ding said.
Leave a Comment
Your donation will support the student journalists of Sidwell Friends School. Your contribution will allow us to purchase equipment and cover our annual website hosting costs.
About the Contributor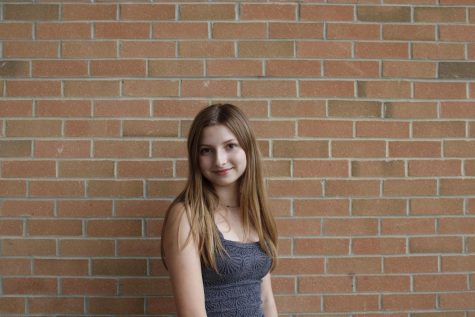 Stella Stone '26, Social Media Manager
Stella Stone is currently a Social Media Manager for Horizon. Prior to this, she worked as a Staff Writer for the newspaper.