Ayanna Gregory, Daughter of Dick Gregory, Addresses Community
On Feb. 27, the Upper School hosted singer, dramatist, educator and activist Ayanna Gregory. Ayanna Gregory is the daughter of comedian and human rights activist Dick Gregory and hopes to continue his legacy and work.
In 2014, Gregory created a short play called "Daughter of the Struggle." Discussing her experiences of prejudice and racial discrimination as the daughter of a famous Black activist and a participant in the Civil Rights Movement, she gained many supporters and continued to perform other shows centered around her father's legacy and goals.
Through her productions, music and art, Gregory hopes to reach one main audience: the youth. She writes on her website that it is her ultimate passion to inspire young kids and instill self-love within them, believing that self-love will later help them make a lasting impact on society. By creating a safe and healing environment, she hopes to motivate kids to believe in themselves and reach their full potential.
Gregory shared the story of her family's involvement in the Civil Rights Movement through her performance of  "I am a Change Maker." She re-enacted her sister's experience while marching in the 1963 Children's March in Birmingham, explaining how the unity and support of an old woman she had never met before helped her overcome her fears of facing the Ku Klux Klan (KKK). Gregory voiced her message through traditional African songs, acting and call-and-response.
While Gregory's appearance was unplanned, as the original speaker had to cancel at the last minute, the administration was grateful for her willingness to come on short notice and share her valuable words with students.
Assistant Principal for Student Life Michael Woods shared that he was impressed by Gregory's ability to grasp students' attention while spreading an empowering and important message. He believed that Gregory conveying her message through a performance rather than a lecture allowed her to better connect with the younger audience.
"We've had engaging speakers that are engaging to adults but not kids," said Woods. "I know that [at] 2:45, [it] is really hard to listen to a lecture," he added.
Through her personal stories, Gregory also presented activism as a way to change the world and leave it better than it had been found. Woods admired this and said it is important to "have a narrative sense of civil rights so that it's not a matter of another 'good thing' we're supposed to learn at school."
Woods also thought it was meaningful that she offered moments of self-reflection to recognize individual flaws while also learning to grow as people. "You have to fight the words you put in your head, and she talked about that," Woods said.
Senior and Black Student Union (BSU) Head Sophie Valbrune explained how the BSU discovered Gregory through Olayimika Cole, mother of senior Ayorkor Laryea.
Cole and Gregory met on Jan. 16, when she performed for Martin Luther King Day in an event organized by the Parents of Black Students. Valbrune and other BSU heads were tremendously inspired by Gregory's performance.
"
I didn't realize how entrenched knowledge of civil rights history was in [B]lack households compared to others.
— Sophie Valbrune
Valbrune shared her main takeaways from Gregory's collection: "Black history has deep roots… [Black people] should celebrate the joy in being black as well as the hardship."
Valbrune also touched on Gregory's message that the power to take action and to make a change comes from one's own mind and creative thinking.
"I didn't realize how entrenched knowledge of civil rights history was in [B]lack households compared to others," Valbrune said.
When Gregory sang a line from "Ain't Gonna Let Nobody Turn Me 'Round," Valbrune found that her peers immediately recognized the song.
Freshman Sophia Douoguih also enjoyed the performance and said she found Gregory's story "truly inspiring." Douoguih specifically admired the bravery that Gregory's sister showed when she had to walk past the KKK during the march.
Douoguih's biggest takeaway was that all people have the potential to achieve their goals and become whoever they aspire to be.
[It is] important to advocate for what you believe in," Douoguih said.
Leave a Comment
Your donation will support the student journalists of Sidwell Friends School. Your contribution will allow us to purchase equipment and cover our annual website hosting costs.
About the Writer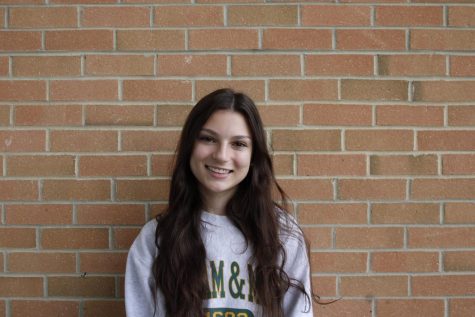 Caroline Mohamadi '26, Business Manager
Caroline Mohamadi is currently a Business Manager for Horizon. Prior to this, she worked as a Staff Writer for the newspaper.