Sidwell's Mask Rules Ensure Safety
With the rise of the delta variant, the start of the 2021-2022 school year has begun with a continued series of challenges. The primary precautions Sidwell Friends has taken to remain safe this school year include mandatory vaccinations, with religious and medical exemptions, and a mask mandate that requires all students and faculty on campus to remain masked regardless of vaccination status. 
The consensus among scientists and COVID-19 researchers has been that the best thing to do for every person's safety is to remain masked. While the vaccines for the virus have proven to be 95% effective in the case of the Pfizer vaccine and 94% effective for the Moderna vaccine, the possibility of contracting and spreading the virus is still a concern. Due to the slim yet non-zero chance of catching the virus, a Sidwell mask mandate is a critical component of ensuring everyone's safety and well-being. 
The mask mandate is also helpful in trying to create equal guidelines for all students. Not only are unvaccinated people more vulnerable to the virus if others are unmasked, but from a logistical standpoint, having everyone follow the same requirements simplifies rule enforcement. Requiring all students to wear masks prevents any differential treatment based on vaccination status. While safety is the number one priority, the well-being and overall unity of our community should also be maintained. 
A mask mandate will also help address the dangers presented by the delta variant. While the COVID-19 vaccines have proved to be largely effective against the new strain, increasing numbers of breakthrough cases of the delta variant in vaccinated people are appearing. 
According to the Centers for Disease Control and Prevention, the delta strain is "more infectious and leading to increased transmissibility when compared to other variants, even in vaccinated individuals." In some cases, the strain has been proven to cause more severe symptoms, particularly in unvaccinated people. However, mask-wearing continues to be a tremendous deterrent against the virus, which further proves the mask mandate to be advantageous. 
Over the past year, masks have proven to be one of the best ways to protect against COVID-19. Continuing to wear them is not only effective but easy. To some, this precaution may seem unnecessary or redundant, but redundancy is intentional, as it ensures the utmost safety for the Sidwell community. Having guidelines that over-prepare for the worst-case scenario is what will get everyone through this pandemic.
Leave a Comment
Your donation will support the student journalists of Sidwell Friends School. Your contribution will allow us to purchase equipment and cover our annual website hosting costs.
About the Contributor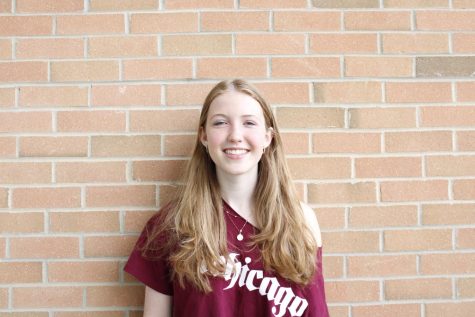 Polly Partridge '24, Editor-in-Chief
Polly Partridge is currently Editor-in-Chief of Horizon. She served as Copy Editor in the 2022-2023 school year and an Opinion Editor in the 2021-2022...