Rubenstein Guest Lecture Features Sidwell Alumnus Artist Kenzo Digital
The Rubenstein Guest Lecture has been a staple of the Sidwell arts community for 31 years. Established by Lee Rubenstein, a parent of Sidwell alumni, in honor of his late wife Daryl, the lecture brings in insightful artists to speak at the school. Visiting artists often attend Sidwell arts classes and interact with students before giving a culminating lecture and presentation.
This year, Sidwell presented digital artist David Kenzo Hakuta '98, known as Kenzo Digital. For his senior project, he interned with esteemed print maker Lou Stovall. A piece from Kenzo's internship is on display in the Rubenstein Art Gallery in the Arts Center. The geometric and circular designs in his early print preview some of the architectural patterns he has employed over 20 years later. 
After graduating, Kenzo attended Carnegie Mellon University and pursued diverse interests, such as visual art, DJing and technology. Most recently, he has created "Air," an immersive exhibition unlike any other. Set 1,000 feet in the air at One Vanderbilt in New York, Kenzo's "Air" bends light and glass, offering a stunning view of the city. The exhibit fuses sound, such as wind recorded from Hurricane Sandy, with visuals, allowing Kenzo to tell a story. 
"'Air' is a story that you are the protagonist of," Kenzo said during the Rubenstein lecture. "It makes you question your reality. It forces you to restabilize your equilibrium."
Kenzo explained his inspiration for the exhibit: "Since middle school, I started having these recurring dreams that took place in a fictitious skyscraper in Manhattan," Kenzo said.
"I was there in my dreams after Sept. 11 and after really big personal events," he added.
Kenzo also discussed his background and influences. His great-uncle Nam June Paik was considered the founder of video art, and growing up, Kenzo attended his exhibitions and drew inspiration from his work. 
"As a kid, I had the privilege of hanging out at the studio with him and other artists and being exposed to how art and technology fuse together in an organic and meaningful way," Kenzo said. 
Paik's influence is clear in his great-nephew's work, as Kenzo's futuristic illusions mirror the ultramodern concepts in his work.
Kenzo's vision has been expressed through many forms of media. He is known for his work with Beyoncé in her World Humanitarian Day performance and for Kanye West's "All of the Lights" music video. 
Kenzo credits the art opportunities at Sidwell with helping to shape him into the artist he is today. His work is on display in the Rubenstein Art Gallery alongside student pieces inspired by "Air."
Leave a Comment
Your donation will support the student journalists of Sidwell Friends School. Your contribution will allow us to purchase equipment and cover our annual website hosting costs.
About the Writer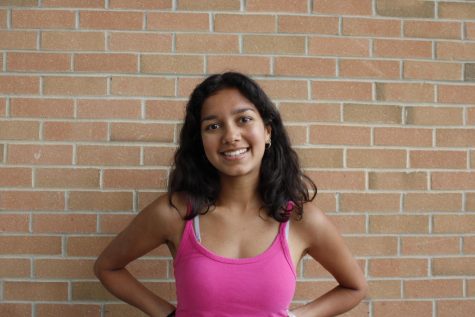 Anya Vedantambe '24, Photo Editor
Anya Vedantambe is currently a Photo Editor for Horizon, a position she held in both the 2022-2023 and 2023-2024 school years. Prior to this, she served...