"I Dream a World" Exhibition Honors Remarkable Black Women
"I Dream a World." These words title the front cover of a 171-page book published in 1999 by photographer Brian Lanker, which contains photographs of Black women whose actions have changed America. Now, 23 years later, the Smithsonian National Portrait Gallery honors these women in a two-part exhibition titled "I Dream a World: Portraits of Remarkable Black Women." Part one of the exhibition opened on July 8 and will close on Jan. 29. Part two will be available from Feb. 10, 2023 to Sept. 10, 2023.
The Smithsonian exhibition was co-curated by Senior Curator of Photographs Ann Shumard and Director of History, Research, and Scholarship Gwendolyn DuBois Shaw.
In an email to AFAR Magazine, Ann Shumard wrote, "This exhibition is important because, through compelling portraits, it invites us to consider the achievements of inspiring Black women who overcame tremendous challenges to succeed in fields as diverse as literature, law, music, sports, and politics."
Lanker's book, which contains 75 photographs and interviews, features writers such as Maya Angelou and Alice Walker, singers including Leontyne Price and Sarah Vaughan and activists such as Coretta Scott King and Rosa Parks. Lanker photographed politicians, educators, actors, chefs and athletes — all women who refused to back down, even in the face of overwhelming odds.
"I felt the need to prevent these historical lives from being forgotten," Lanker wrote on the Smithsonian's website.
"Many of the women opened 'the doors' and many advanced America through the modern civil rights and women's movement," he continued.
The photographs, taken in black and white, demonstrate each woman's poise and resolve while also reflecting their individual struggles. The wide smile visible on world-renowned chef Leah Chase's face as she crosses an empty street contrasts the focused concentration shown by Olympic gold-medalist Wilma Rudolph, a concentration underscored by the close-up shot and Rudolph's stance, poised to spring into action. The downcast, world-weary expression worn by Scott King is mirrored in the face of Beah Richards, while the critical eyes of Alice Walker and Sarah Vaughan seem to be staring through the photograph, as though challenging the viewer. Multiple women are posed with their heads tilted slightly back towards the sky or their eyes gazing just beyond the camera, as though contemplating something far beyond the viewer's sight.
The photographs' black-and-white cast sets a somber, almost contemplative tone, a mood accentuated by the simplicity encapsulated in each photograph. Every image is a masterful product of thoughtfully selected camera angles, expressions, stances and surroundings.
"He has discovered women whose images show us the high cost of living and the rich reward of thriving," Maya Angelou wrote in the book's foreword.
"These women regard us, understand us, gaze through each of us, into a beyond…their gaze informs us that they will not be removed … they are determined to remain," she concluded.
Leave a Comment
Your donation will support the student journalists of Sidwell Friends School. Your contribution will allow us to purchase equipment and cover our annual website hosting costs.
About the Writer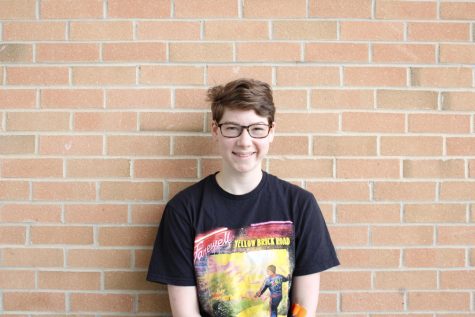 Elle Ludwin '25, Culture Editor
Elle Ludwin is currently a Culture Editor for Horizon. Prior to this, they worked as a Staff Writer for the newspaper.