Sidwell Hosts All-School Lunar New Year Celebrations
Jan. 22, the second new moon after the Winter Solstice, marked the Lunar New Year for 1 billion people around the world. The festival is most commonly celebrated in China and other East Asian countries with symbolic decorations, performances and a variety of special foods.
Lanterns, fireworks and candles are emblematic of the Lunar New Year. Displays of light symbolize darkness being banished with this new beginning.
The traditional Chinese lion dance is performed in the first few days of the new year. The lion symbolizes strength, bravery and stability and is meant to dispel evil spirits. According to legend, a monster named Nian lived in the mountains and terrorized a Chinese village at the end of each year. Since Nian was scared of loud noises, the color red and bright lights, villagers created the lion costume and performed a dance, accompanied by drums and fireworks, to chase the monster away — the origin of the lion dance.
On the first full moon of the new year, the Lantern Festival honors the deceased, promoting peace and forgiveness and ending the 15 days of celebration.
Food is another integral part of Lunar New Year celebrations. Fruits are presented to houseguests to sweeten the upcoming year. Oranges, tangerines and mandarins are often given as gifts because they symbolize gold and fortune. Cooked dishes also have special meanings: dumplings, spring rolls and rice cakes symbolize wealth; tang yuan rice balls represent togetherness and family; and long noodles promote longevity and happiness.
Sidwell has been hosting Lunar New Year celebrations for years, often with performances like the Lion Dance. These celebrations, organized by the Parents of Asian Students Association and the Parents Association, have served as a means for students and families across divisions and cultures to gather and celebrate the new year.
This year, Sidwell's Lunar New Year celebration took place on Jan. 29. Sidwell invited Tai Yim Kung Fu, a martial arts school, to perform the traditional lion dance. The celebration also included musical performances by students, many in traditional dress. Families brought dumplings, fried rice, lo mein, mapo tofu, kung pao chicken, egg tarts and pineapple cake. Parents shared dishes from a variety of countries, such as momos, borek, pad thai, bulgogi and cookies.
"It was cool to see so many different members of the community showing up and bringing food or performing," freshman Emi Nyhan said. "It was definitely a good experience that felt very unified."
Leave a Comment
Your donation will support the student journalists of Sidwell Friends School. Your contribution will allow us to purchase equipment and cover our annual website hosting costs.
About the Writer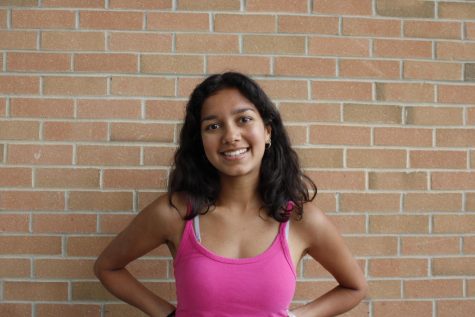 Anya Vedantambe '24, Photo Editor
Anya Vedantambe is currently a Photo Editor for Horizon, a position she held in both the 2022-2023 and 2023-2024 school years. Prior to this, she served...