Lely Constantinople Reveals New Photography Program Format for the 2023-2024 School Year
For over a decade, Upper School Photography Teacher Lely Constantinople has been a fixture of the Upper School photography program. The program's popularity has revealed some areas for improvement in the structure of the classes, challenges that Sidwell plans to address in the 2023-2024 school year.
Currently, students enrolled in Photography II, III and IV are all grouped together in one class period. This makes it difficult for Constantinople to teach level-specific material because students with such varying abilities are in the same class. Photography courses are also above capacity, with 18 or 19 students per class, versus 16 in the average Upper School class.
"It's really frustrating, and for years, I've wanted to change how the levels progress," Constantinople said. "I'm fried, I'm burning out," she added.
Constantinople has been spearheading a new format for the program that will be implemented next school year to address these difficulties. In the new program, students in Photography I and II will be grouped together, separately from students in Photography III and IV.
"[The new format] is beneficial for myself and my teaching," Constantinople said. She described the new system as "a deeper way to teach," as it allows her to spend more time with each class.
There will also be an Advanced Photography class next year, a year-long class with rigor comparable to AP Studio Art.
Constantinople hopes that in Advanced Photography, students will delve deeper into techniques and pursue self-driven independent projects.
"I've had a student who took pictures of every single one of her classmates in their favorite spots around the DMV," Constantinople recounted. "I want to make the advanced level mean something," she continued.
Though the current class format presents difficulties, Constantinople continues to ensure that her classes are engaging for students. There are two projects that she is especially excited for this year. One of them is the new Holga project, in which students use the inexpensive and erratic Holga film camera to capture thematically interesting shots.
"The Holga project is a real, fun, exciting project for Photo III and IV," Constantinople explained. "It's stretching a different muscle for them. It has very little control," she added.
Constantinople is also excited to collaborate with Upper School Ceramics Teacher Caroline Battle's classes. The project will involve cyanotype printing on tiles. Cyanotype is one of the oldest processes in photography, and students will be able to combine the cyanotype with another ancient medium, clay.
"I hope for more interdisciplinary projects like this one," Constantinople said.
Leave a Comment
Your donation will support the student journalists of Sidwell Friends School. Your contribution will allow us to purchase equipment and cover our annual website hosting costs.
About the Writer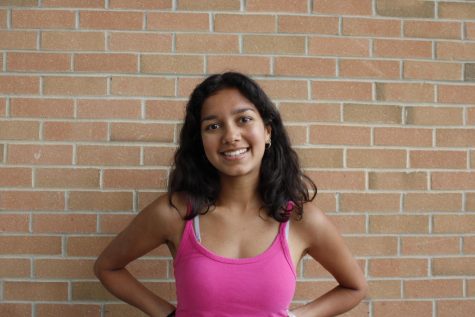 Anya Vedantambe '24, Photo Editor
Anya Vedantambe is currently a Photo Editor for Horizon, a position she held in both the 2022-2023 and 2023-2024 school years. Prior to this, she served...