Mamadou Guèye Before Sidwell: Senegal's Soccer Phenom
Though known in the Sidwell community today as Upper School Principal, Mamadou Guèye's first passion lies with soccer. Growing up in a village about an hour south of the Senegalese capital city of Dakar, Guèye first fell in love with the sport playing pick-up soccer games daily with other kids from his village.
Soccer's popularity in Senegal is partly attributed to the few materials required to play: "All you need is a place to play and a ball," Guèye said.
Since soccer can be played anywhere, Guèye was easily able to excel in the sport from an early age by playing for as many hours as he could.
In the summer, children in Guèye's community played soccer to pass time while off from school and train for the school season. Soccer's purpose as a fun, non-school related activity did not undermine the high competition and athleticism displayed in local school districts.
"The local talent was organic and remarkable," Guèye said.
When not at work or school, Guèye dedicated his time to developing his soccer skills. By 14, he was an outstanding player who faced opponents up to eight years older. Playing on the best team in his school district, Guèye went on to win many regional cups and gained the attention of local recruiters.
In 1978, at just 16 years old, Gueye joined his first official club soccer team as the team's starting center defender. This team, Ndiafadji FC de Niakhar, comprised the area's top talent. Guèye played above his age group, showcasing his ability to compete at a high level and his desire to advance as a player.
Grass fields were only available in Dakar, so Guèye's team practiced on sandy surfaces closer to his home village.
"Training was tough, but our team beat others in the physicality department even if they had better technical skills," Guèye said.
Running and playing soccer in the sand posed extra resistance and challenge, so when playing on Dakar's grass fields in big competitions, Guèye and his team easily outlasted their competitors.
From 1976 to 1984, Guèye was nationally ranked and attracted international recruiters from France. Guèye cites his mom as a crucial source of support, as she understood the passion he felt for soccer and the joy playing brought him.
Guèye's father, however, barred him from playing professional soccer. Initially, he was upset, but reflecting back on his father's actions, Guèye is now grateful.
"In the '80s, soccer was not yet the career that it is now," Guèye said. "It was too unstable and my father understood that," he added.
Guèye eventually moved to the U.S. to play soccer at Michigan State University in 1984. Here, his soccer career came to an unfortunate end when he tore a ligament in his knee and could not return to the field.
After his career as a player ended, Guèye began coaching at DC International School. Continuing on this path, he served as an assistant coach for Sidwell's Boys' Varsity Team starting in 1990. In 1992, he stopped coaching when he accepted a job in the Upper School as a French teacher. After working as a French teacher, Guèye eventually became a part of the Sidwell administration.
While Guèye loves his current job, he sometimes wishes he could coach soccer again. Though no longer playing competitively or coaching, he is still an avid supporter of Senegal's national team. Additionally, Guèye supports the Premier League team Chelsea F.C., as the captain of Senegal's National Team, Kalidou Koulibaly, plays there.
Soccer has taught Guèye life lessons that have contributed to his current success.
"When you are a team captain and leading a group of 11 people, it requires an amount of camaraderie, leadership and hard work," he said.
Leave a Comment
Your donation will support the student journalists of Sidwell Friends School. Your contribution will allow us to purchase equipment and cover our annual website hosting costs.
About the Contributor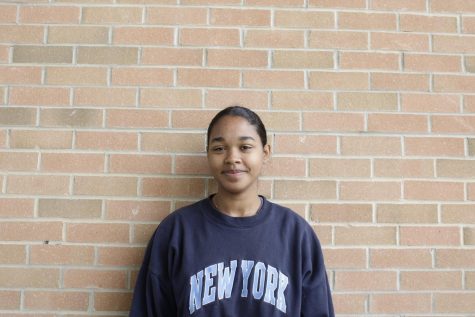 Maya Jones '24, Features Editor
Maya Jones is currently a Features Editor for Horizon. Prior to this, she worked as a Staff Writer for the newspaper.